Thanks to the fast and innovative development of DSP technology, combined with the precision of state-of-the-art lasers and accelerometers, Oberon has achieved a groundbreaking system that accurately measures longitudinal road surface properties at normal traffic speeds. The AXON1 measurement system, developed by Oberon, meets the highest quality requirements and incorporates as few self-developed parts as possible, utilizing already-proven high-quality components available in the market, resulting in a cost-effective development process without compromising quality.
Oberon's hardware and software components are seamlessly integrated to create a sophisticated measurement system that can quickly respond to customer needs. The development process involved some effort, particularly for the analogue parts, but the end result is a product that exceeded expectations and proved to be a perfect fit for road "object" measurement requirements.
For project level road measurement, accuracy and quality are of paramount importance. It is essential to compare the road data with future measurements of the same project, which is why repeatability and equipment stability are critical for providing consistent results over a number of years. The transducers' resolution must be extremely precise, and the software algorithms must be executed with floating-point accuracy to avoid any distortion of the measurement data.
On the other hand, road network measurements provide a statistical view of the measured road network and identify the location of bad road parts, while the project level road measurement focuses on determining a specific object's deterioration over time. Project level data is analyzed at the smallest level, ensuring the highest level of scrutiny, whereas road network measurements offer an overall view of a country's road conditions.
In summary, Oberon's AXON1 system, developed using cutting-edge technology and top-quality components, offers an unparalleled solution for longitudinal road surface measurements. Its accuracy, repeatability, and stability make it ideal for project level road measurement and analysis, providing the necessary data to ensure high-quality and safe road networks.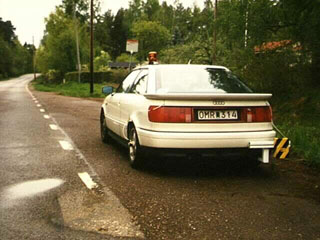 AXON1 was expertly installed onto a lowered AUDI vehicle with firmer suspension in a matter of minutes, showcasing its remarkable efficiency. Unlike traditional sensor boxes that require special equipment to be mechanically mounted onto the tow ball, AXON1 was ingeniously secured onto the car's rear transport mount, further highlighting its advanced design.
The Swedish National Road Administration, SNRA, has recognized AXON1's exceptional capabilities in measuring object measurements, as demonstrated through a rigorous project-level survey. At the time of its qualification in December 1997, AXON1 was one of only two companies approved for this task.
AXON1 underwent an extensive evaluation by the prestigious VTI, Road and Transport Research Institute, where it repeatedly measured fifteen different road strips at various speeds over a two-week period in May 1996, totaling over 150 measurements. The results of this evaluation were presented in a comprehensive report, dividing the qualification into two parts, measuring road networks and road objects, with the latter being a novel concept at the time.
The ability to measure road objects, or a stretch of road that could be newly constructed, allowed for an accurate assessment of its compliance with SNRA's quality requirements. AXON1's exceptional high-accuracy equipment facilitated the measurement of IRI for one of the three critical road properties for object measurements: crossfall, IRI, and rutdepth, while other road properties were optional.
For those interested in learning more about the intricacies of IRI and longitudinal profile, a detailed description is readily available on the University of Michigan's website. Overall, AXON1's impressive performance and versatility have established it as a leader in the field of road measurement technology.